This was an epic ride in so many ways!
First, major congratulations to everyone. We had a number of really unique things come together and I am happy to say that with ONE exception, no one rode alone. A big part of our club is being welcoming and these are difficult rides. A triumph shared is a triumph multiplied, a suffering shared is a suffering halved. All riders on this ride were vaccinated so we basically held our first group start in a long time.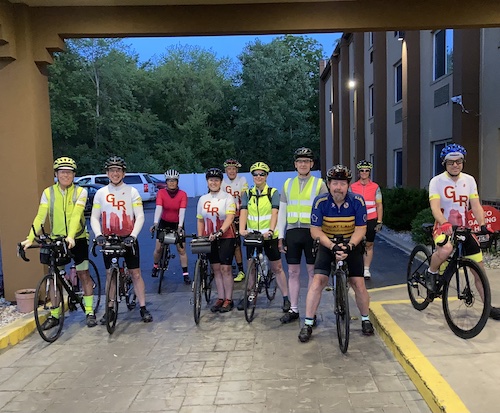 The All Vax Shot!
Next, we had some people succeed at lofty goals!
Karie Strangeway, Ellen Gibbon and Brian Snarr (my cousin) all finished the 157 mile first loop (the Long Prairie 155). On a day when my thermometer eventually hit 110 degrees. I got the pleasure of riding with them and hope to see all of them on the Dancing Jellyfish Double Century. Taking the steps as you ascend the distance ladder is always exciting.
Chuck Judy and Lena Chon finished their second lifetime 400k. It's a big deal to do a repeat on this distance. Lena's Pesto Chicken wrap recipe was a big crowd pleaser.
Also many thanks to Kathy Metzker and Jennifer Danhaus who ran the much needed night stop. Jennifer also completed the 157 and switched to volunteering for the day. Having volunteers for our rides really makes them special. We had almost the entire GLU Board on the ride! Congrats to Ted Fay who picked the 100 mile loop on a hot day and did it solo!
Final kudos to Todd Hoskins who kept cool and finished the last 100 miles solo at 6:30 am with some great adventures.
Despite the forecast, everyone finished safely and kudos to all on what may be my most favorite 250 mile ride ever. The Dancing Jellyfish Rides and Door County are coming up too!
There were pictures a plenty!