This was a great ride. Saturday was appropriately sweltering with the heat really setting in at around lunch. We had 2 new additions to the club. Scott, who was on his first double century and his wife, Diane, supporting her first double century! Diane was "practicing" for supporting Scott in an epic ride from Canada to Mexico later this year. We were so lucky to have her too.
There were 5 total on the Jellyfish. Todd Hoskins did our pre-ride some time back. He was the only one to ride the entire first version as a pre-ride. That was before the big chemical fire in Rockton.
For those that don't know it, 6 days before the ride, the Chemtool plant (only a mlle from the route) exploded in a ball of fury. Due to the closeness of the Rock River, firefighters could not dump water on it so they let it burn out. We completely re-wrote the route and wound up making an even nicer final 125 miles that the original (though perhaps a little more like a Jellyfish that was stepped on...)
The start was the same as the 600k and for the first time in a long time, we had a start picture with almost everyone in it for both rides (2 missing, pre-rider and one who doing the 600k over 3 days as a training ride).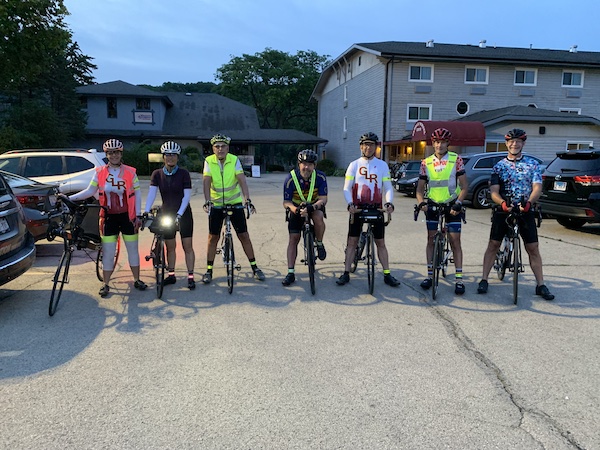 Diane coming was particularly great because for once, Michele got to ride! That's not always possible since we support our riders. So Michele did the Double Century on a recumbent and joined Paul Danhaus on the back of his tandem the next day on the 125 mile (same as the second day of the 600k.
We started up a chat for the double century to help Diane keep track of us. The 600k had less support for the first half of their ride, but that's another report. Those first 62 miles to Brodhead were nearly perfect with only one very short stop. We managed to miss Diane and after that kept the chat going a lot better. Beautiful roads and relatively clear pavement with sunny skies and even a bit of tailwind! Rob went out ahead, speedster that he is,but waved hi as the rest of us neared the turnaround.
The wind managed to change directions and continue to be a tail. But the heat was fierce, especially on climbs and at the nuclear power plant. We made it to 125 miles in less than 10 hours and had to take a long break, availing ourselves of a hose back at the inn! Then it was off to Dixon and Polo for the last 75 miles.
Steve Baker, a local GLU member, had helped put this section together as part of the route change. It was beautiful, but that hill outside Grand Detour is not to be triffled with! In the heat, we slowed slightly but as we finally got to Polo, it cooled. The reward! 15 miles of fast downhill back to Dixon. Then a quick night ride and we were finished.
Huge thanks to Dian and Steve Baker, who made this ride such a beautiful one. And congratulations to Scott on his first double century! And congrats to Chuck for overcoming the heat and finishing nonetheless!