President's Note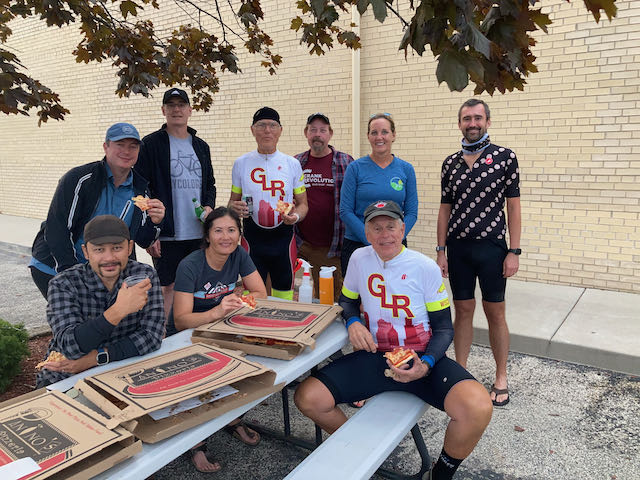 A huge thanks to everyone who attended our club meeting. For a first time, it was a great turnout and I'm really happy to be able to provide more opportunity for people to be involved in ultra cycling. While I love brevets, they aren't always a starting place in the sport and having a more open club can only help bring people into randonneuring. Preserving its spirit is a top priority.
We should also all welcome new members to our board, Jerad Tintera and Ted Fay are joining as Route Master and Outreach Coordinator. The entire board is excited about the new mission and busy looking at opportunities for cycling this year and beyond.
We have a brand new website and a new newsletter format being spearheaded by Jennifer Danhaus. But always feel that you can have input at info@greatlakesultracycling.org. One of us will get back to you.
Looking forward to the opener and a great season as we work to stay safe and (hopefully) watch the pandemic subside.
All Club Meeting Recap
Thanks to the 37 of 49 members who attended the March 15 meeting via ZOOM. In case you missed it, the recorded meeting can be viewed here with passcode 2%tncvHG. It will be saved for 30 days.
Since that meeting, 12 more riders have officially joined or updated their membership. Welcome! Whether you are a seasoned ultra-distance rider or new to the sport, we look forward to sharing many miles with you in the gorgeous Great Lakes region.
The club is emerging from the first year of the pandemic with a new name and a new mission statement. Great Lakes Randonneurs served the limited purpose of running brevets to qualify riders for the quadrennial Paris-Brest-Paris 1200k grand randonnée in Paris. With the explosion of interest in various forms of ultra cycling in the past decade, we have adopted the new name Great Lakes Ultra Cycling. Traditional brevets will be a subset of the many ways GLUC members and guests can challenge themselves.
The new mission statement:
To promote non-competitive endurance cycling events in the Upper Midwest including centuries, double centuries, randonneuring, cycle touring and others at and over 60 miles.
To encourage safe cycling, provide a forum for camaraderie and training for endurance cycling events, and to positively impact the communities in which we ride.
SEASON OPENER
Our opener will be on April 24th in Evanston using the Happy No Trails route. Designed by Kingston Smith and developed to be a low traffic version of the original Evanston to Bull Valley 200k. We love the Fox River Trail, but pedestrian traffic last year made it hard to cycle.
Social Distancing—We will follow the same procedures as last year. Social distancing does NOT mean social isolation. We can ride and stay a bit farther apart; a limited mass start may be possible depending on conditions.
Mandatory Pre-ride Meeting
April 22, via Zoom - An invitation link will be e-mailed to registered riders
Flexible Start—You may start at any point on the route that you want, at any time from 5 am to 9 am.
Parking—available at Temperance Brewing
Route Validation—by GPS track, so you are free to stop anywhere you like, if at all
Post-ride Tailgate—at Temperance Brewing, socially distanced of course
SIGN UP SOON HERE! See Tailgating Party above!
2021 SEASON
The preliminary 2021 Ride schedule was significantly reworked post-meeting based on member input. That is always ongoing and
our new mission will let us incorporate it much faster so don't be shy!
RUSA sanctioned rides were an overwhelmingly low priority, especially given that this is not a qualifying year for Paris-Brest-Paris. (If you are interested in RUSA credit for an event, please contact us and arrangements for club members will happily be made.)
Expanded Ride Formats—There is considerable interest in ride formats in addition to brevets. Various double-century routes will be available, as well as non-standard distances and gravel rides. Detailed information on scheduled rides is available by clicking on each ride on the calendar.
Safest Route Policy—Riders enjoyed many of last year's routes based on the recently implemented Safest Route Policy. Requirements for RUSA-sanctions routes often put us on roads that are less safe and often less scenic than non-RUSA routes.
New formats in development for future seasons include:
Michigamme Bike Challenge—self-supported ride around Lake Michigan, akin to the Great Divide Ride. [Mike Nichols]
12-Hour personal challenge—potentially based at the Eau Claire Dells near Wausau, WI [Paul and Jenn Danhaus]
Porcupine Tour—a week-long, tour-paced version of the epic 2020 Iron Porcupine 1200k [Michele Brougher]
Midwest III Crown—a series of double-century event in Illinois, Indiana and Iowa, akin to the California Triple Crown
New routes are in development in these locations
Green Bay/Door County, WI
Wausau, WI
Oregon, IL
Barrington, IL
Others
Of course, the meeting could not end without the proposal for a new club jersey. Yes, fellow jersey-junkies, a design is in the works!
VOLUNTEERS
A growing club and an expanded expanded mission require some division of labor! Michele will continue to serve as president and as the Regional Brevet Administrator (RBA). We have already had a lot of interest and positions fill but are still looking for:
Ride Leaders: It doesn't have to be a complicated job, create or pick up one of our routes and ride it with friends
General Volunteers: From Social Media to ride day support, it's a great way to be involved
If you are interested, send an email to Info@greatlakesultracycling.org
We look forward to seeing you all!
Michele, Kingston, Jennifer, Paul, Mike, Jerad and Ted - your GLUC Board